Monthly Archives: February 2018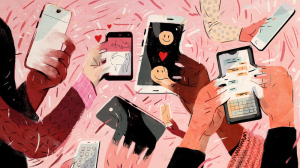 Photo Source: Ryan Johnson for NPR
Last week we spoke about "Thin Slices of Joy" and living in the present. Have you tried it, yet?
And so in honor of Valentine's day tomorrow and living in the present, I thought we would talk about a recent interview I heard on detoxing from Smartphones. I know, eye roll, and how trendy, right? Wrong. David Greenfield, a psychologist and assistant clinical professor of psychiatry at the University of Connecticut found that hearing a notification from our phone is identical to the study Ivan Pavlov did over a century ago. Greenfield compares us to those dogs and warns us that high usage of our telephones can cause serious disorders and addiction. 
According to Greenfield, the average user checks their phone 50 to 300 times a day and compares it to gamblers on slot machines. In another study, Dr. Anna Lembke, a psychiatrist at Stanford University, considers this problem a "spectrum disorder" that can go from mild to extreme forms. She doesn't think we should stop using our phones completely, that would be too much of an extreme, but does advise us to consider controlling our use of the phone and being more present.
Dr. Lembke suggests we spend less time on our phones to help increase our creativity, enjoyable time with family and friends and efficient time at work.
But before you decide to take on the challenge of detoxing from your phone, as this week's exercise, I invite you to listen to this fascinating report:
https://www.npr.org/sections/health-shots/2018/02/12/584389201/smartphone-detox-how-to-power-down-in-a-wired-world
When you are done listening, I challenge you to turn off your phone for the next 24 hours and enjoy Valentine's day without any interruptions or notifications and instead, soak in the pleasures of such a romantic day!
And in case you are curious, a little video on the history of Valentine's day!
---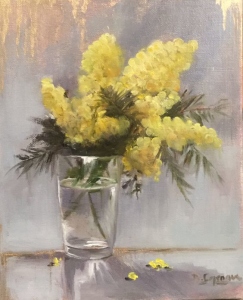 Artist: Brigitte Cazenave
On this rainy cold day, when warmer weather seems distant and bouts of the flu are sprouting everywhere, I thought we could talk about something comforting as we patiently wait for longer sunnier days.
With Spring on the horizon, I wanted to talk about an interesting blog post I read recently in regards to slowing things down and taking in our surroundings. Basically, to live in the present and enjoy the now…Not an easy task when we are running around from place to place, is it? But maybe, 2018 is a great year to try and re-focus and take pleasure in the small things in life. You might have heard of mindfulness and meditation. If you haven't here are a few links to get you informed:
https://www.mindful.org/mindfulness-how-to-do-it/
https://www.nhs.uk/conditions/stress-anxiety-depression/mindfulness/?
In essence, mindfulness is being aware of yourself and your surroundings. Of soaking up or absorbing our sensations and learning how to view experiences through an easier or at least calmer perspective. This is not anything new or revolutionary. Artists and philosophers have been doing it for centuries, but in this fast paced world in which loneliness is now officially an epidemic and with a Minister of Loneliness in the UK, maybe we need to step back and take pleasure in the smaller things in life.
So, what are thin slices of joy? According to Chade-Meng Tan, they are small little pleasures throughout the day that make us feel, better, happier and it doesn't take much to do it.
Usually these events are unremarkable: a bite of food, the sensation of stepping from a hot room to an air-conditioned room, the moment of connection in receiving a text from an old friend. Although they last two or three seconds, the moments add up, and the more you notice joy, the more you will experience joy, Tan argues. "Thin slices of joy occur in life everywhere… and once you start noticing it, something happens, you find it's always there. Joy becomes something you can count on." 
Remember the French movie Amelie? When she sticks her hand in a bag of dried beans and gets pleasure out of it? Those are thin slices of joy…
So, which are your thin slices of joy? Do you celebrate them daily?
And since we are talking about the present, I thought we would do some practice exercises on the use of the present simple & present continuous. Good Luck!
Present Simple and Continuous: https://www.ego4u.com/en/cram-up/grammar/simpre-prepro