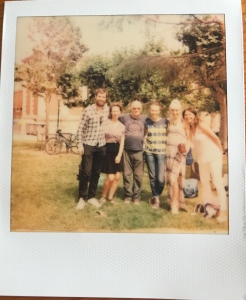 Our team is made up of professionals who have found a connection with teaching and know how to apply their entrepreneurial knowledge inside the classroom:
Heidi Schmidt | Founder and Teacher
Moved to Barcelona in 2006 from San Francisco, California where she graduated from San Francisco State University with a Bachelor's in English and Creative Writing.
She has worked with many profiles of students from illiterate students, adults with special needs and language immersion programs to CEOs, Doctors, Lawyers and Directors of major European companies and associations. Her specialization is Business English and she uses her skills to adapt to each specific profession. She understands the difficulties of learning a new language and speaks fluent Catalan and Spanish to demonstrate that it is necessary to learn a language to grow and understand cultures that influence you most.
Caroline Bagnara | Teacher
Originally from Montreal, Caroline has been living and teaching English in Barcelona since 2008. For the past twenty years she has also been working as a translator and interpreter and has subtitled over 60 documentaries and movies. She formerly worked as Project Manager for several charities, travelling worldwide and appreciating new cultures and environments. She enjoys interacting with people from different backgrounds and finds it greatly rewarding to help her students reach their goals and master the English language.
Tim Currant | Teacher
Tim is British and has lived on the edge of a wilderness called Dartmoor for most of his adult life. He has worked in both education and business providing teaching, coaching and training to adults and young people. He is a creative person whose passions are communication, singing (with the fabulous Barcelona English Choir), Life-drawing and cycling.  Currently he is drawing and developing a children's book about a bear.  Once upon a time he was a greeting card designer and earlier in his life he made beautiful wooden boxes that were sold in Harrods in London and Macy's in New York…
Anna Bebzuka | Teacher
Originally from Gdansk, Poland Anna has recently moved to Barcelona from Ireland where she taught English to international students at Dublin City University. She holds a B.A. in TEFL from University of Poznan and a Master's degree in Intercultural Studies from Dublin City University. For the past few years she has been working as an English teacher in Poland, Ireland and now Spain. She has some business and corporate background (gained at CarTrawler in Ireland and Grupa Travel in Poland) but it is among her students where she feels most at home. A passionate believer in Multiple Intelligences and the need to adjust teaching to students' needs and requirements.
Nick Crowney | Teacher
After having graduated from The University of Leeds with a BSc in Physics and a BSc in Astronomy from the University of Durham, the planets lined up so Nick could land in Barcelona. Since 2012, he has been teaching Business English to an array of students in the Business sector and enjoys planning interactive classes that require the student to speak, think and listen. His extensive experience in the world of Business English has given him the ability to teach all levels and work hands on with the students to motivate them and help them improve. On his time off he enjoys playing both rock and flamenco guitar and has even been known to give guitar lessons.
Rosemary Grieve | Teacher
Rosemary studied a BA(Hons) in Fine Art in Liverpool with a particular interest in anthropology and communication. From there she went on to a career as a Curator in Contemporary Art that spanned 12 years in the UK. In 2012 all that changed……she discovered Swing dancing and was seriously bitten by the bug!
Over 3 years she travelled around South America and Sweden dipping her toes into Afro-Brasilian dance, Capoeira, Tango, Passinho and House dance, Contact Improvisation and Vipassana meditation.
In 2017 she finally settled in Barcelona, "one of the best places to dance in Europe" to develop her interest in non-verbal communication. This is her fourth year of English teaching which is the perfect companion to dance. Rosemary teaches English to business professionals and young teens with a particular emphasis on creative thinking. She knows that tapping into the interests of individual students can bring language learning to life.
Mary Katherine Hogan | Teacher
Mary Katherine was born in New York and raised in New Jersey, where she obtained a B.A. in Spanish from Rutgers University. She went on to teach Spanish in several public high schools and at Rutgers. For a time, she worked as a professional drummer with various New York bands, touring across North America. In February 2007, Mary Katherine moved to Barcelona, where she has carved out a career as a Business English teacher and Spanish-to-English translator. In her free time, she enjoys playing the drums and touring Europe with her punk and rock bands.
Claudia Denegri | Teacher
Claudia has spent her life between Barcelona and London, having always been surrounded by an international background. She holds a MA in Communication Policy Studies from City University London and got her Cambridge CELTA certificate at International House Barcelona. Claudia has been teaching General and Business English for 4 years and is very passionate about teaching, interpersonal communication and psychology, three essential aspects of teaching a language. She defines herself as a curious and constant learner and having studied various foreign languages herself has helped her to appreciate how languages and their learning processes work.
Aurélie Volsy | French Teacher
Je m'appelle Aurélie Volsy. Je viens de Grenoble en France, dans les Alpes. Je vis à Barcelone depuis 13 ans. Je suis professeure de Français Langue étrangère (FLE) depuis 2006. Je travaille auprès de publics variés et de tous âges.
J'interviens dans les entreprises : je coache des entrepreneurs pour leurs présentations en français, j'enseigne le français sur objectifs professionnels ou le français général. J'interviens dans les établissements scolaires, je travaille pour l'Institut Français de Barcelone depuis 2008.
Mon parcours artistique me permet d'être plus inventive et créative chaque jour dans mes cours. Plaisir d'apprendre et envie de communiquer sont mes maîtres mots.