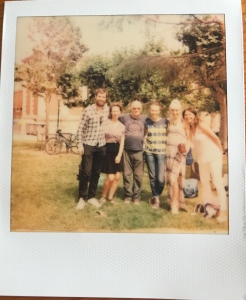 Our team is made up of professionals who have found a connection with teaching and know how to apply their entrepreneurial knowledge inside the classroom:
Heidi Schmidt | Founder and Teacher
Moved to Barcelona in 2006 from San Francisco, California where she graduated from San Francisco State University with a Bachelor's in English and Creative Writing.
She has worked with many profiles of students from illiterate students, adults with special needs and language immersion programs to CEOs, Doctors, Lawyers and Directors of major European companies and associations. Her specialization is Business English and she uses her skills to adapt to each specific profession. She understands the difficulties of learning a new language and speaks fluent Catalan and Spanish to demonstrate that it is necessary to learn a language to grow and understand cultures that influence you most.
Caroline Bagnara | Teacher
Originally from Montreal, Caroline has been living and teaching English in Barcelona since 2008. For the past twenty years she has also been working as a translator and interpreter and has subtitled over 60 documentaries and movies. She formerly worked as Project Manager for several charities, travelling worldwide and appreciating new cultures and environments. She enjoys interacting with people from different backgrounds and finds it greatly rewarding to help her students reach their goals and master the English language.
Alicia Kersting | Teacher
Alicia is an American, originally from Manchester, New Hampshire. An artist and entrepreneur, she received a BFA in Boston and has a background working in the energy sector, mainly in CCS/Climate Change at the US Dept. of Energy in Washington DC and the Global CCS Institute in Australia. In 2012 she moved to Berlin Germany for a career change and began painting, running a gallery, and teaching English. This sparked the flame and she's been teaching ever since; working with Fortune 500 companies, At EF in Boston, and throughout Spain. She resides in Barcelona where she's raising a Trilingual babecita with her Catalan husband and learning Castellano and Catalan. 
Tim Currant | Teacher
Tim is British and has lived on the edge of a wilderness called Dartmoor for most of his adult life. He has worked in both education and business providing teaching, coaching and training to adults and young people. He is a creative person whose passions are communication, singing (with the fabulous Barcelona English Choir), Life-drawing and cycling.  Currently he is drawing and developing a children's book about a bear.  Once upon a time he was a greeting card designer and earlier in his life he made beautiful wooden boxes that were sold in Harrods in London and Macy's in New York…
Anna Bebzuka | Teacher
Originally from Gdansk, Poland Anna has recently moved to Barcelona from Ireland where she taught English to international students at Dublin City University. She holds a B.A. in TEFL from University of Poznan and a Master's degree in Intercultural Studies from Dublin City University. For the past few years she has been working as an English teacher in Poland, Ireland and now Spain. She has some business and corporate background (gained at CarTrawler in Ireland and Grupa Travel in Poland) but it is among her students where she feels most at home. A passionate believer in Multiple Intelligences and the need to adjust teaching to students' needs and requirements.
Nick Crowney | Teacher
After having graduated from The University of Leeds with a BSc in Physics and a BSc in Astronomy from the University of Durham, the planets lined up so Nick could land in Barcelona. Since 2012, he has been teaching Business English to an array of students in the Business sector and enjoys planning interactive classes that require the student to speak, think and listen. His extensive experience in the world of Business English has given him the ability to teach all levels and work hands on with the students to motivate them and help them improve. On his time off he enjoys playing both rock and flamenco guitar and has even been known to give guitar lessons.