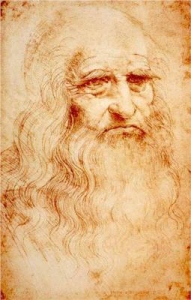 Step outside the class | Drawing Activity with Tim Currant
Saturday, March 2, 2019 from 10am to 12pm
"Learning never exhausts the mind" – Leonardo da Vinci
Remember that next Saturday, March 2nd is our first round table event of 2019 with Tim Currant. We will be sharing breakfast, coffee and an excellent opportunity to learn how to draw and relax, while improving your skills in conversational English.
Here's Tim:
Are you dissatisfied with your drawing ability – or think "I can't draw"?
Whatever level of drawing ability you may or may not have, this workshop shows you how to develop authentic drawing skills. I believe that everyone has the potential to draw, but just need to focus on three things:-
1. Change your thinking habits when you draw
2. Learn how to train your hands and eyes to work together.
3. Go and practice them. Practice makes perfect – before Leonardo da Vinci drew the final painting on the Cistine Chapel, he drew 140 pictures that did not work.
The workshop will be hands on and enjoyable and a chance to find out of you really can draw!
Please RSVP by Wednesday, March 27th
And don't forget our future events!
Thursday, March 14, 2019, 19.00h-20.30h: PART I: "Eating your way through words" this is a two part series led by Caroline Bagnara (Learning food vocabulary)
Thursday, March 28, 2019, 19.00h-20.30h: "Cleaning up your act" led by Anna Bezubka (living a healthier more sustainable life)
Saturday, April 6, 2019, 10am-12.00h: "Meandering through art" led by Rosemary Grieve (Visiting a museum and practicing your English skills in description)
Thursday, April 26, 2019, 19.00h-20.30h: PART II: "Eating your way through words" led by Caroline Bagnara (Visiting Santa Catarina Market in English)
Thursday, May 9, 2019, 19.00-20.30h: "Setting yourself up for success" led by Heidi Schmidt (the importance of setting goals and challenges)
Start reserving your favorite activities and we will keep you informed! You can email us at hello@heidi-schmidt.com
Each course has a cost of 30€ per person and will include snacks and beverages